At a recent networking event, I was dumbfounded to see that some business people are still using free email addresses, like Gmail, Hotmail or Yahoo. My instant thought was: "Are you taking your business seriously?"
A company email address like YourName@AwesomeCompany.com, looks more professional than AwesomeCompany693@gmail.com.
A branded email address can instill a sense of security and trust, as your customers tend to believe that your business is legitimate. At a time when consumers are increasingly worried about spam and malware, it comes as no surprise that something like LittleMermaid832@hotmail.com isn't going to land you with many clients.
It is vitally important that a business uses a branded company email address and your business can easily create a professional-looking email address.
The drawbacks of free email
Regardless of the size of your business — whether its a startup, SME or a home-based product or service business — your company email address is like a handshake to clients. In this digital age, it is often their first introduction to you and your business.
While free email addresses are easily available online, they have a major disadvantage: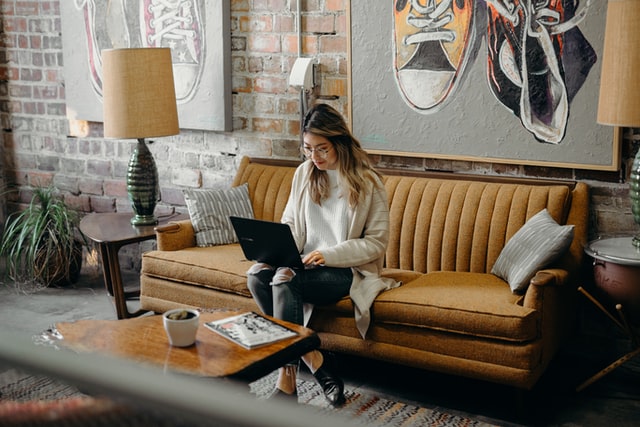 If you use one of the free services such as Yahoo or Gmail, your email address will not have your business name in it. This is bad for brand promotion.
Another drawback is the security and privacy of personal profile data. All the free email service providers say that they guarantee full privacy. Unfortunately, business users continue to receive spam, even if they don't provide their email addresses to a third party.
In addition, some companies and individuals pay less attention to the emails they receive from free email addresses, thinking that they are spam. This way, you might be missing out on important leads that could benefit your business.
The benefits of paid email accounts
A professional email address includes a domain name that you've registered for your own use. In addition to serving as your website address, this domain name can be used for your email address (e.g. J.Doe@AwesomeBusiness.com).
Here are some things a professional email account can do for you:
Make your business look established
To begin with, a domain-based company email address shows that you are a professional and elevates your corporate image. Customers, suppliers and other stakeholders feel more comfortable dealing with you. On the other hand, a generic email address might raise doubts on the authenticity of your company.
Build credibility and trust
A branded email address builds trust and credibility, two key components for a business to succeed. With scam businesses all around, consumers might not be comfortable emailing personal information to your Yahoo or Gmail address. A professional email address can offer a sense of security and assurance to your customers that your business is legitimate.
Promote awareness of your business
Having an email address that matches your business website address (such as J.Doe@AwesomeBusiness.com) helps in greater brand recall. For marketing campaigns, your branded email address can be your best bet. That's because you're promoting your own business, and not that of Hotmail, Gmail or Yahoo.
Setting up your business email: Things to know
A company email address holds a lot of importance in modern day communication and is used extensively for marketing and business communications. Having a domain-based email address for your business is a necessity and you must get one if you are serious about your business.
Irrespective of the size of your business or the industry in which you operate, there are certain things every business owner should know before setting up their company email address:
Use your own domain name
It is always professional and practical to create an email address that is the same as your website domain. If the only thing a prospective client sees is your email address, they will know that it's coming from your business.
If you are the head of a company, say, AwesomeBusiness, and own the domain name AwesomeBusiness.com, then your email address might be J.Doe@AwesomeBusiness.com.
Likewise, if you were to assign other usernames it will be EmployeeName@AwesomeBusiness.com. These are called email aliases and can be used to create addresses for employees.
Short and simple Is sweet
Among the most important things to keep in mind when you create an email address for your company is to keep it simple. It should be something that is easy for others to remember. It should also be short enough that it can easily fit on a business card.
If it's too complicated, people tend to make mistakes and you never receive the message.
Say, your name is Jane Doe and you head the AwesomeBusiness company. Here are some possibilities of choosing the right email format:
J.Doe@AwesomeBusiness.com
Jane.Doe@AwesomeBusiness.com
JaneD@AwesomeBusiness.com
The format should be the same for every person in your organisation. This makes it easy for clients to guess the addresses of people they know.
Multiple email addresses
In selecting an email provider for your business, you need to find out if the service accommodates multiple user email aliases (and if so, how many). This is important if you have multiple employees or want to assign a separate email address for different departments, such as:
Accounts@AwesomeBusiness.com
Jobs@AwesomeBusiness.com
Admin@AwesomeBusiness.com
You can also create addresses such as info@AwesomeBusiness.com, contact@AwesomeBusiness.com and support@AwesomeBusiness.com for stakeholders to use different email accounts for different purposes.
Select the right email provider
Normally, the company you buy your domain name from will also offer a business email service at a reasonable price. This is a convenient way to manage your email and is relatively easy to set up.
Here are a few things you need to be clear about before you choose an email provider. Answering these questions in advance will help you as you weigh your options:
Number of email users
The size of your business and the number of email users will affect which email plans you consider. Can you add email users at any time? What is the cost per user?
Your storage needs
How much email storage do you currently use? Plan to get more than this in your new plan, especially if you expect your business to grow.
Email archiving
Ask if the provider offers archive services, including auto-archive. This will come in handy if you need to retrieve an important business email.
Special needs
Any particular feature your company requires, say, online collaboration, cloud storage or Exchange server compatibility.
Cost and budgeting
Another issue is your overall budget and payment cycle — you'll need to decide whether monthly or yearly payment makes more sense.
Accessibility
Is your team going to access email from a website (web-based email) alone, will they be able to access it from an application on their computer (lMAP or POP3) or from a mobile application?
Security provided
Some email plans just provide spam filtering; others provide advanced features like email encryption. Encryption is particularly useful for industries at high risk of hacking (finance, healthcare, government, etc.).
An email provider like connexion.zone internet services has ready answers to all the questions above.
Create a company email address with confidence
There was a time when a professional email address was seen as a luxury; an expensive way of separating yourself from the crowd. All that has changed now.
With a branded email address, you'll look professional, trustworthy and more established.
You can easily set up a company email address through Professional Email from connexion.zone at a reasonably low cost. So what are you waiting for? Get domain-based email to give your business a professional look.